U.S. DOE undersecretary Brogan visits Whitwell Middle touting Evolution of Education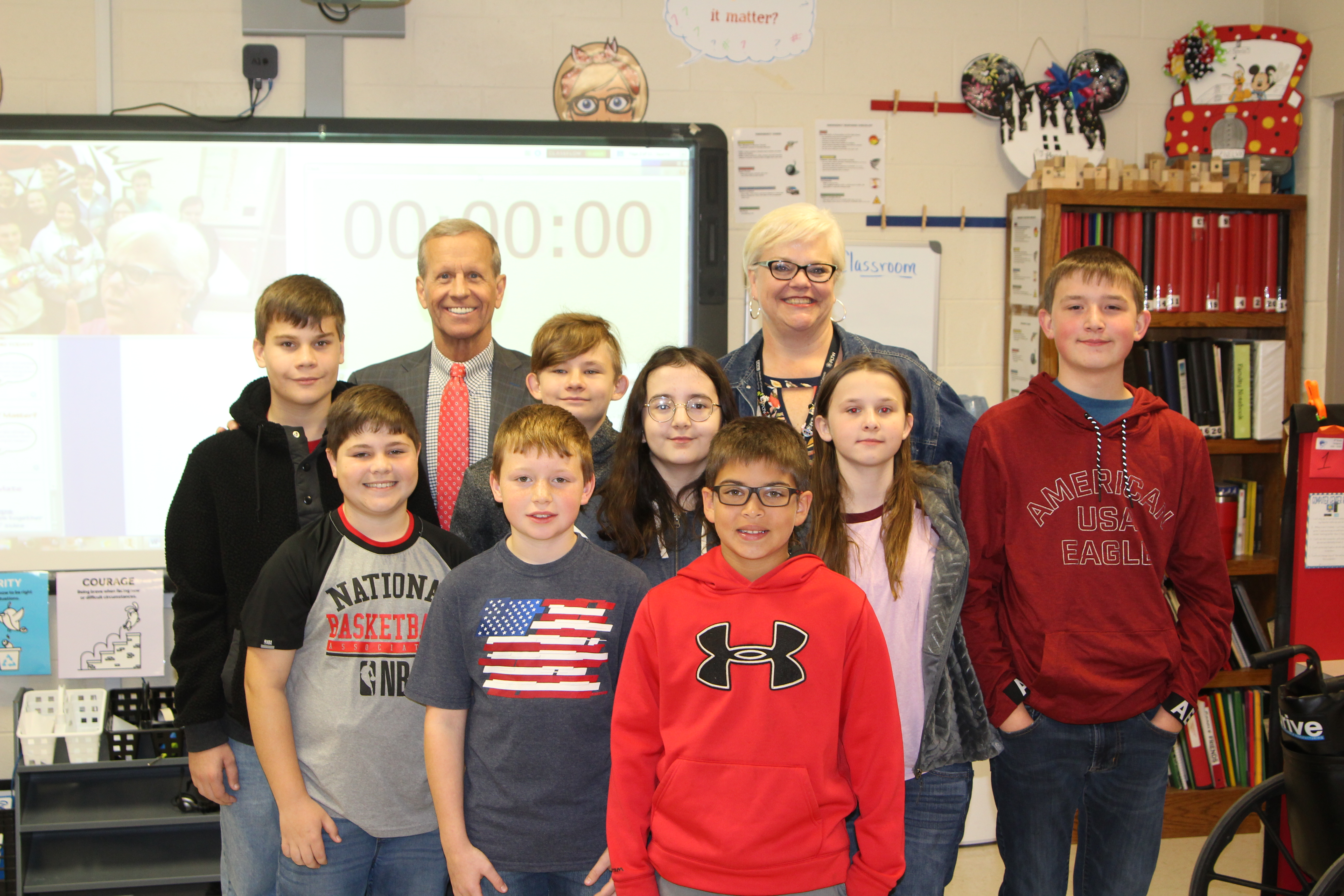 ---
United States Department of Education Assistant Secretary for Elementary and Secondary Education Frank Brogan included Whitwell Middle School in his schedule of schools he was touring in the Chattanooga greater metro area. Brogan's career began in the classroom and has steadily climbed through local, state and now federal administrative roles. The crux of Brogan's visit was to highlight unique learning environments throughout the state. Whitwell Middle School's Paperclip Museum was certainly part of the draw, but the school's pre-engineering (Project Lead The Way) program also took high marks from the undersecretary throughout his tour. Brogan also took some time to address some questions about issues affecting our local schools.
Brogan was already scheduled to visit some schools in Chattanooga later in the day and added Whitwell Middle School for the morning. Whereas being given a tour of the school isn't all that rare, having students spearheading that tour was definitely new. With WMS Principal Kim Headrick, County Mayor David Jackson and School Superintendent Mark Griffith in tow, as well as Brogan, students Cooper Patterson and Landon Holtcamp gave Brogan the highlights of the school as a whole. Nicholas Thomas and Madison Rummage introduced Brogan to the Holocaust Museum components. It would come to light that Brogan has a deeper connection to the Holocaust Museum than most as he served on the Board of Directors of the Florida Holocaust Museum Board. Brogan also got "into the trenches" visiting a Project Lead the Way class setting where middle schoolers took on preliminary structural design challenges and computer-aided drawing (CAD) projects.
Brogan acknowledged the power of public schools to meet the challenges of a changing workforce and economy. "It is very timely that in public education people are, in some ways, beginning to catch on when it comes to innovation and the creativity that absolutely has to be a part of reaching this generation of young people." He went on to explain his vision of what's to come for these students. "We all know, this generation of young people are going to grow up and inherit a world vastly different than the one that you and I grew up in. We were prepared for that day and time. We are preparing young people for something very different." Brogan, who served as the Florida Commissioner of Education as well as Lt Governor from 1995 to 2003, added, "Technology has taken off in an incredible way. Information is doubling and tripling, while we're standing here having this conversation and the needs of the world will be vastly different. So, how our educators reach the students of today and prepare them for that world demands innovation, demands to rethink and the reengineering of America's educational system to make sure that, indeed, they're prepared for the world they're going to live in."
When asked to reconcile the needs of tomorrow with the testing standards from yesterday, Brogan offered, "Right now across the country we have several states that are actually laboratories for how testing is accomplished as a part of the Every Student Succeeds Act (ESSA) which was passed three years ago a part of that was a state's ability to ask for a waiver from the Department of Education at the federal level to say 'We would like to try and pilot some new testing opportunities for students in parts of our state so that if we try them and if they work well, we can apply them and replace our existing state test with those tests. We do have a number of states that are employing that approach to try and find and make certain that the way we test students is appropriate for the students I just talked about." He went on to say, "And we're really excited about that and we're already starting to see some very interesting results from some of those test changes. Different approaches not only test a student's subject knowledge but also their ability to think critically and the ability to even communicate, which are inherently important skills for the 21st century. So, I think once we start to see some success with some of these new testing programs I think you're going to see them take off like lightning and I think others are going to going to want to get into the pool because the water is fine."
Director of Marion County Schools, Dr. Mark Griffith, said, "We're encouraged that the federal government is making a point to come and see the challenges and accomplishments in the more rural communities in the nation." Griffith said through a smile, "You know, we forget how good these Project Lead The Way programs are, but it is nice to see people from outside acknowledge the value."
Brogan was expected to tour a number of schools throughout southeast Tennessee and Northwest Georgia before returning to Washington, D.C.